Key Takeaways From Can't Hurt Me
"Can't Hurt Me" by David Goggins is a must-read for anyone who loves to root for the underdog. David tells his story of how hard work and determination allowed him to transform his life from one of poverty, depression, underachievement, and ill health into a career as a world-class personal trainer and elite athlete. David paves a path for anyone looking to chase their dreams, by revealing his secrets for success.
My key Takeaways from "Can't Hurt Me: Master Your Mind and Defy the Odds" by David Goggins:
The true story of one of the most determined and fittest military men in the world, learn how David became unbreakable, living life without excuses.
Born in 1975 in New York, David's early childhood was far from joyful, himself, his Mother and older Brother having to work tirelessly at the family-owned roller-disco rink, working until midnight most nights. Having to sleep in the office, not easy with the loud music from the rink, he would often fall asleep at school. But that wasn't the worst, David's Father was abusive to him and his Mother, beating the pair with a belt whenever they defied him. This miserable existence continued until David was 8 years old when his Mother managed to escape with David to start a new life in Indiana.
Unfortunately, David's new life wasn't free from hardships, himself and his Mother now entering into a life of poverty and David experiencing the results of extreme toxic stress with alopecia, vitiligo (a condition where the skin loses its pigment resulting in discolored patches of skin), a nervous stutter, and memory problems. Not being able to remember what he'd learned at school meant he was labeled 'dumb' by teachers and being the only African American child in the class didn't help matters. To avoid being sent to a special needs school, David began to cheat with his homework and on his tests, the teachers not realizing or not caring that as David approached his adolescent years, he could barely read.
As a teenager, David was still struggling at school until the desire to join the United States Air Force and become part of the pararescue team took hold. This desire made him buckle down at school and learn to read. He was accepted into Air Force training but his inability to swim was one test too much and he quit training, using his diagnosis of sickle cell anemia as his get out card.
In 1999, aged 24, David found himself working as a night shift pest exterminator and using food to numb his feelings of hopelessness. Weighing 255 pounds when he left the Air Force training, his weight had shot up to nearly 300 pounds as he tried to escape the harsh reality that he was in a dead end job with no way out since he was uneducated and unskilled.
Watching a documentary about Navy SEALS in training gave David the motivation to begin to turn his life around, inspired by the mental toughness of the young men he saw on TV. His desire to be in the military was back and this time there was no stopping him.
His first challenge was to lose more than 100 pounds within 3 pounds in order to get onto the SEALS training programme. A grueling fitness regime saw him getting up at 4.30am and spending 2 hours on the exercise bike before hitting the pool for 2 hours followed by the gym and then more time on the exercise bike. After 2 weeks and a 25 pound weight loss he added 4 mile runs to his workout regime. He made the SEALS training program and after weeks of intense training achieved his ambition.
In 2005 David found himself in need of new challenges, something new to test his fitness to the limits – Extreme long distance running aka ultra running was his answer. He went on to complete the hardest foot race in the world, the Badwater 135 mile race, raising money for charity along the way and finishing in 5th place.
To become successful in life you have to have a strong work ethic life David - there are no 'quick fixes' only hard work. David doesn't allow excuses to creep in and says that by becoming an early bird, anyone can achieve similar levels of success.
***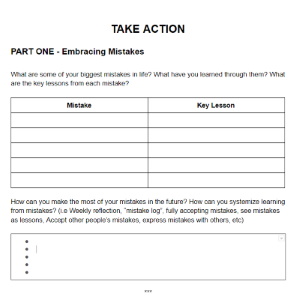 On average, 90% of what we read is forgotten within the first hours after reading... Which is why it's so important to apply what you read.
Click Below to get a free workbook of one of my top recommended books of all times, filled with in-depth insights, action points and self exploration exercises.
***
Can't Hurt Me Chapters
Chapter One - I Should Have Been a Statistic
Chapter Two - Truth Hurts
Chapter Three - The Impossible Task
Chapter Four - Taking Souls
Chapter Five - Armored Mind
Chapter Six - It's Not About the Trophy
Chapter Seven - The Most Powerful Weapon
Chapter Eight - Talent Not Required
Chapter Nine - Uncommon Amongst Uncommon
Chapter Ten - The Empowerment of Failure
Chapter Eleven - What If?
***
My Favorite Quotes from Can't Hurt Me
"You are in danger of living a life so comfortable and soft, that you will die without ever realizing your true potential... Tell yourself the truth! That you've wasted enough time, and that you have other dreams that will take courage to realize, so you don't die a fucking pussy."
"We live in a world with a lot of insecure, jealous people. Some of them are our best friends. They are blood relatives. Failure terrifies them. So does our success..."
"Denial is the ultimate comfort zone."
"The reason it's important to push hardest when you want to quit the most is because it helps you callous your mind."
"If you want to be one of the few to defy those trends in our ever-softening society, you will have to be willing to go to war with yourself and create a whole new identity, which requires an open mind."
"We all need small sparks, small accomplishments in our lives to fuel the big ones. Think of your small accomplishments as kindling. When you want a bonfire, you don't start by lighting a big log. You collect some witch's hair—a small pile of hay or some dry, dead grass. You light that, and then add small sticks and bigger sticks before you feed your tree stump into the blaze. Because it's the small sparks, which start small fires, that eventually build enough heat to burn the whole fucking forest down."
― David Goggins, Can't Hurt Me: Master Your Mind and Defy the Odds
***
Get a Free Workbook
Get actionable takeaways and self-exploration exercises of one of my top recommended books of all times. Just enter your email below and it will be sent to you instantly for free.

* No fluff, No spam, You can always opt out
Apply What You Read
Get a free workbook of my top recommended books of all times, filled with in-depth insights, action points and self-exploration exercises. Just enter your email below and it will be sent to you instantly for free.

* No fluff, No spam, You can always opt out
Editor and Founder
Tal Gur is a location independent entrepreneur, author, and impact investor. After trading his daily grind for a life of his own daring design, he spent a decade pursuing 100 major life goals around the globe. His most recent book and bestseller, The Art of Fully Living - 1 Man, 10 Years, 100 Life Goals Around the World, has set the stage for his new mission: elevating the next generation of leaders to their true potential.
Like what you see? Please share with your friends ⇗